Mini Meet-Up Presentations
2021 Mini Meet-Ups
MM10. Digital Storytelling (Laura Wyper and Gavin Shields)
Laura shared the concept and practical mechanisms for creating and implementing the "Building Resilience through Food Literacy Video Project" with Community Economic and Social Development Field Placement course (CESD 3017) students and students across Algoma University, Nippissing University and Savonia University of Applied Science in Finlandin Winter 2021. Gavin then shared the process and lessons learned from making the Sustainability Stories video series in Thunder Bay with LSLLN partners in Summer 2020. The videos that Laura and Gavin reference are available on the LSLLN websites (links above).
MM9. Houghton Hub Introduction (Erika Vye)
Erika introduced the Houghton Hub of the LSLLN by describing the history of their location including the intersecting ancient geology, the lake, and the people and the approach of the Great Lakes Research Center. She also outlines a number of research, education, and advocacy projects and collaborations in the area, and how the legacy of mining impacts so much today.
MM8. Community Education (Sue Hamel)
Sue shared a great overview of the structure and seven program areas at Ecosuperior: water, waste, food, active transport, climate, education, and land connections. A discussion followed regarding the role of LSLLN, a four day work week, and the role of education and advocacy.
MM7. Seed Saving (Rachel Portinga, Zachary Paige, and David Abazs)
Rachel shared a quick summary of research completed in summer 2020 on the impact of community seed saving on wellbeing and resilience. Zachary gave an overview of his business process and goals at North Circle Seeds and shared a bit about his work with White Earth Land Recovery project and seed rematriation. David A shared a quick overview of his work as a farmer and seed saver at Round River Farm in Finland, MN, multiple growing initiatives, and also his role in the Regional Sustainability Development Partnership.
MM6. Regional Food Production, Processing, and Eating (Julie Allen, Randy Hanson, David Thompson)
Julie and Randy shared the history of the Sustainable Farming Association (specifically the Lake Superior chapter) and an overview of their new website Roots and Recipes. Recipe submissions are currently being requested! David T then shared some of his work regarding local beef production and abattoir development in the Algoma region.
MM5. Municipal Sustainability (Mindy Granley and Summer Stevenson)
Summer shared an overview of her work with EarthCare Thunder Bay, specifically the Climate Action Plan. Mindy presented an overview of her sustainability work at the City of Duluth.
2020 Mini Meet-Ups
MM4. Exploring Climate Change and Health in Fort William First Nation using arts-integrated methods (Lindsay Galway and Liz Esquega)
Liz and Lindsay presented about a research project they undertook with members of FWFN to explore the nexus of climate change and health. The project led to the production of a quilt and a photovoice project with youth. To access their ppt, open the document below.
---
MM3. Ark of Taste Course Project (Laura Wyper)
At this Mini Meet-Up, Laura Wyper (Algoma University) shared information about a course project she designed for 2nd year undergrad students incorporating the Ark of Taste and Slow Food Canada. She had help from Elizabeth Edgar-Webkamigad and many community partners. The work is being published with NORDIK soon.
Recording Available here
---
MM2. Duluth Power Dialog (Kathryn Milun)
Kathryn shared details about the Duluth Power Dialog approach. Use this link to find details and videos about the 2019 Duluth Power Dialog
Recording available here (missing first seven minutes).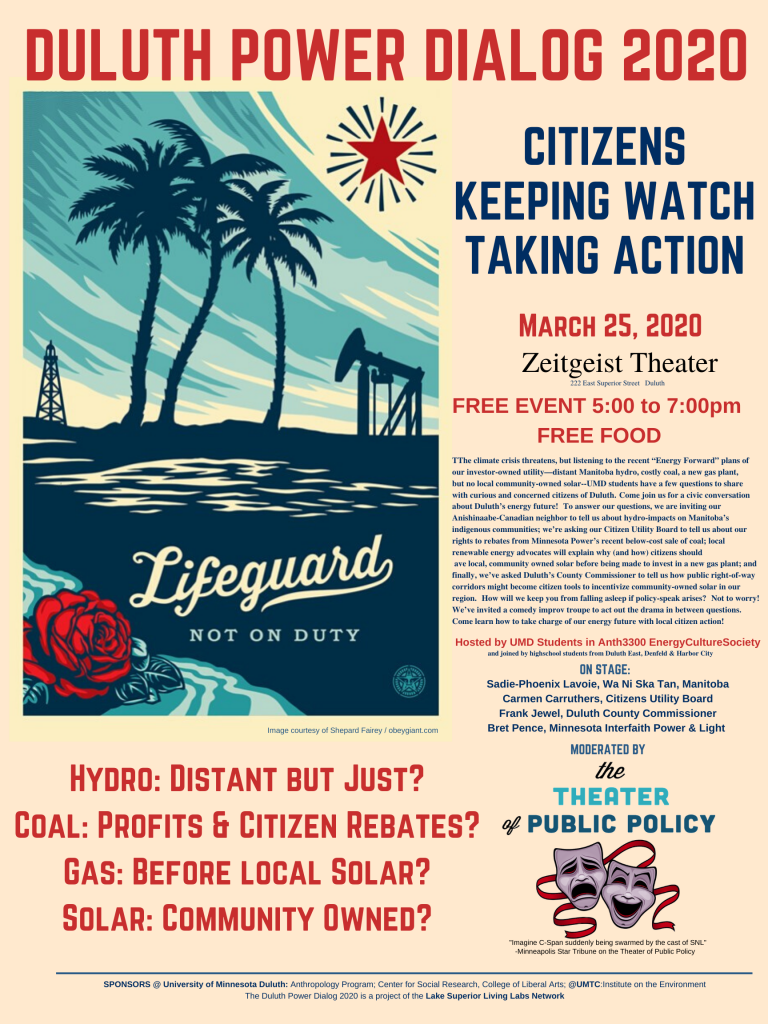 ---
MM1. Batchewana Fisheries Research (Charles Levkoe and Kristen Lowitt)
Below is a pdf of slides shared during this meet-up about Charles and Kristen's Lake Superior fisheries work.
LSLLN Newsletters
---
---
LSLLN Annual Reports