Thunder Bay Hub - Projects
Click on any of the project titles below to learn more:
Thunder Bay Hub - Partners
Throughout 2020, members of the Thunder Bay hub co-created the Sustainability Stories Video Series. Our goal was to use digital storytelling to highlight efforts, share learnings, and synthesize a place-responsive understanding of what Sustainability means here in the community of Thunder Bay and across the watershed – as related to projects that our members and partners are engaged in. The videos were crafted to tell stories, prompt reflection and invite community participation. The videos also weave together some of the key themes of the LSLLN: relationships, collaboration, diversity, place, and just sustainabilities.
We want to express our gratitude to Gavin Shields, a research assistant with the LSLLN, who led the filming and editing for the Videos Series. His creativity, motivation, and commitment enabled this project, and these Sustainability Stories, to come to life. We also want to thank the Sustainability Stories working group for helping to guide the process and those who participated in the videos.
Agroecology and Seed Security in Northern Ontario
The Agroecology and Seed Sovereignty in Northern Ontario project's goals are to improve knowledge, skills and capacity to produce healthy and sustainable food in Northwestern Ontario. The project built upon the relationships with Lakehead University faculty, staff and students, the Lakehead University Agricultural Research Station (LUARS), the Lakehead University Sustainability Office, Roots to Harvest, The Superior Seed Producers, Bauta Family Initiative on Seed Security, the Ecological Farmer's Association of Ontario, the Lake Superior Living Labs Network, and a number of community partners.   Over three years, the partners developed relationships, completed seed trials for carrots, peppers, radicchio, spinach, rutabaga, and Gete Okosomin squash, researched the current needs, interests and capacity to meet project goals, researched the impact of seed saving on health and wellbeing of seed savers, hosted numerous workshops on planting, cultivation, harvesting, preserving, and seed saving, and created two video series about seed saving for community members.
Seed to Seed Video Series:
How to grow and save seeds in a short growing season

The videos in this Seed to Seed Video Series walk through all the steps of growing seeds in a short growing season from planting seeds through cleaning (specifically in the Thunder Bay region – zones 4a and 3b).
Webinar Recordings – 2020

These videos are recordings of webinars hosted in 2020 – the information remains relevant today for anyone looking to grow their own food.
Starting Seeds webinar recording with Lucie and Wendy (Superior Seed Producers) and Janna (Roots to Harvest) to help you start your garden each year!
Begins at 16:40 minute mark.
Gardening in our short growing season webinar recording with Graham to discuss frost dates, climate, and more.
Begins at 7:00 minute mark
Caring for your Garden webinar recording with Marcelle and Brendan of Sleepy G Farm. Weeding, mulching, fertilizing, watering, and MORE are discussed.
Begins at 1:11 minute mark.
Garden Pests and Diseases in Northwestern Ontario webinar recording with Dr. Ken Deacon, entomologist. Learn how to recognize prevent and/or treat for various pests. 
This webinar dives into canning, jamming, and freezing your foods so you can enjoy them throughout the winter. Follow along with Kim McGibbon and Diana Bockus.
Evalisa McIllfaterick and JoAnne Henderson share their seed saving knowledge through this webinar including basics and tips and tricks for peas, beans, lettuce, tomatoes, and more. 
This is a documentary about seed saving and the people who make it happen in Thunder Bay, Ontario. This film was made by Saanya Sinha at Confederation College with the cooperation of Roots to Harvest and Students of Confederation College.
Agroecology and Seed Security Annual Reports
Meeting and Weeding – 2020
Co-Sponsors of the Agroecology and Seed Security in Northern Ontario Project
Rain Garden Demonstration and Engagement Site
The Rain Garden Demonstration and Engagement Site involved the design and installation of a rain garden on to reduce stormwater runoff, protect water quality, and provide habitat for pollinators. The project involved a group of students in all phases of the project including interactive workshops, site design and installation of the garden. The site also includes interpretive signage, an interactive precipitation gauge, and is part of the Lakehead's campus sustainability tour. We will share the successes of this initiative, including the experience of successfully designing a water management solution while meaningfully engaging the university community and engaging in place-based experiential learning. Learn more here: Rain Garden Demonstration and Engagement Site
Labyrinth Learning Community
The labyrinth is a fitting metaphor for sustainability and learning processes. The labyrinth supports experiential, holistic, and contemplative learning across disciplines, promotes mindfulness and wellness, enhance the physical and aesthetic environment of the campus and facilitate university, school, and community collaboration, and fosters creative engagement with people and place. Through the Labyrinth Learning Community, participants can walk the labyrinth to explore the impact of contemplative practice on their teaching, research and action. We will share the successes of this initiative along with the associated pedagogy and practices and work with the LSLLN hubs to explore opportunities for new labyrinths in other locations.
Exploring Food and Fishery Systems in the Lake Superior Region
The Exploring Food and Fishery Systems in the Lake Superior Region works with First Nations, non-profit organizations and small business to better understand and map the connections between fisheries and local food systems. Using a participatory action research methodology, it uses food systems as a lens to broaden the scope of sustainable fisheries by integrating a range of interdependent dimensions (including geographical, political, economic, policy, food security and nutrition, sustainability) that interact around sustainable fisheries. The findings will bring attention to the larger sets of actors and voices that are essential to the future of sustainable fisheries, including those of Indigenous peoples, civil society, and social movements, and most marginalized within existing approaches. The LSLLN will help to expand the research and action across the Lake Superior Watershed. This project is supported by the LSLLN and a SSHRC Insight Development Grant.
Food Sovereignty and Fisheries Governance in Batchewana First Nation
This research is exploring traditional fisheries governance in Batchewana First Nation (BFN) of the Ojibways in support of food sovereignty and reconciliation. Working in partnership with the community, this project is documenting fisheries knowledge and governance systems to support BFN's ongoing management of lands and waters in their territory. Ultimately, the project aims to contribute to the relationship building among Batchewana First Nation, the province of Ontario, and the wider public that is vital for reconciliation and developing equitable governance relationships on Lake Superior.
A main output of the project is a video documentary, produced in collaboration with BFN and working with Sarah Furlotte of 48th Parallel Productions. This documentary is an important communication tool that the community can use to continue sharing their story and raising awareness about fisheries, self-determination, and food sovereignty in their territory. The link below takes you to the video's website where you can view a trailer, learn about the people and community in the video, see screening information, and related resources.
This project is supported by the LSLLN and a SSHRC Partnership Engage Grant.  This project is led by Kristen Lowitt and Charles Levkoe.  For inquiries or to get involved please contact Kristen Lowitt at kristen.lowitt@queensu.ca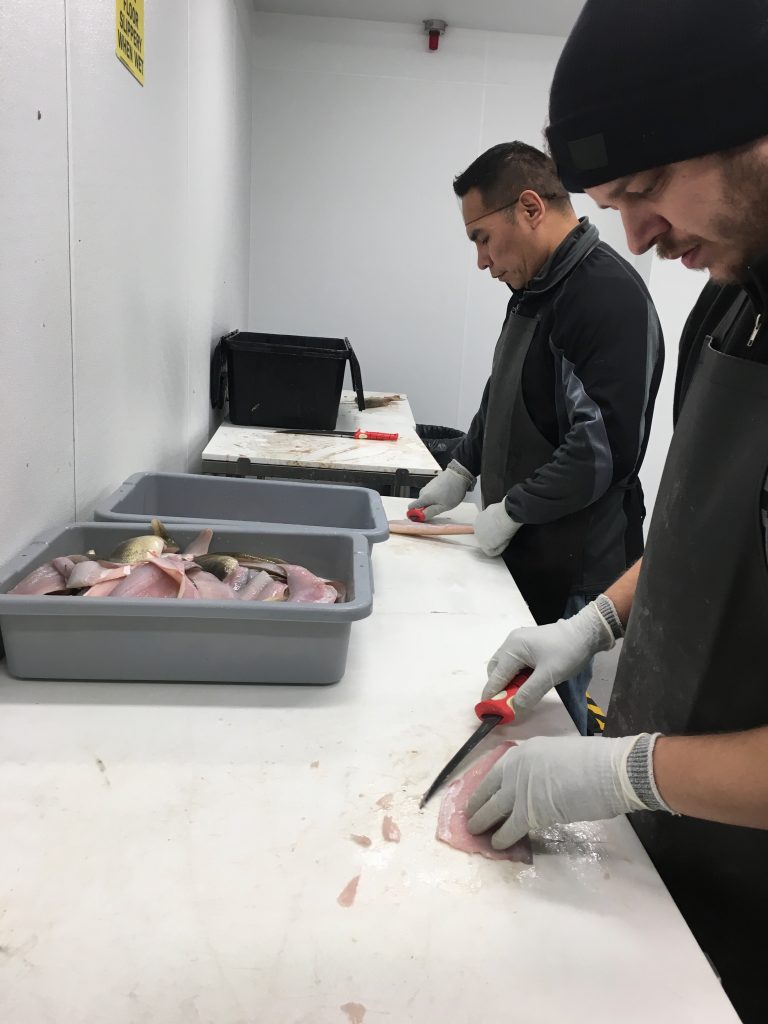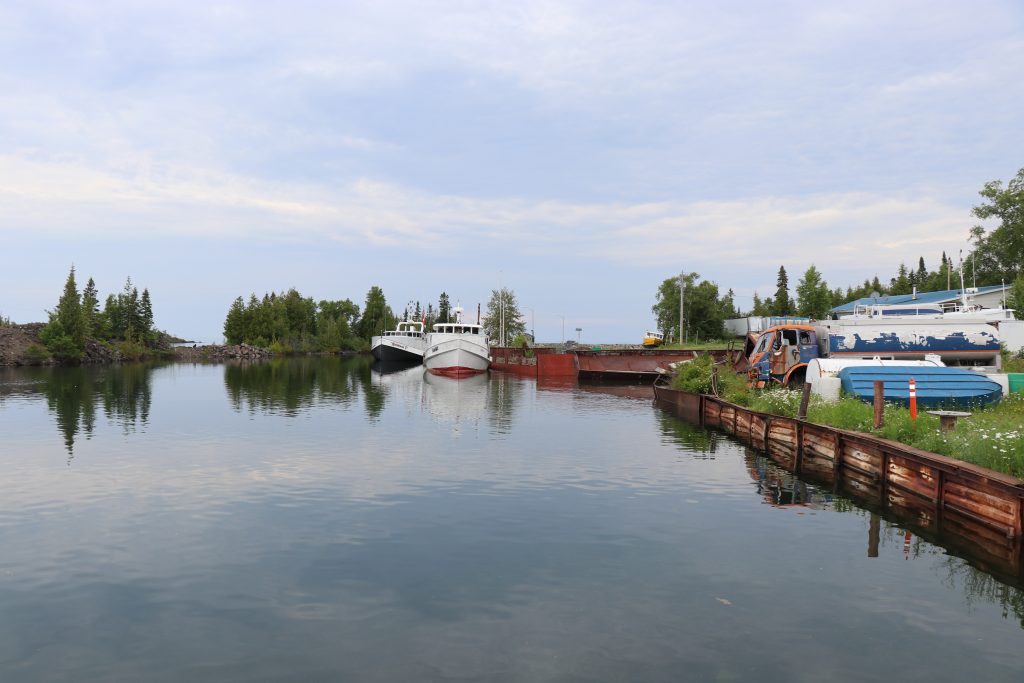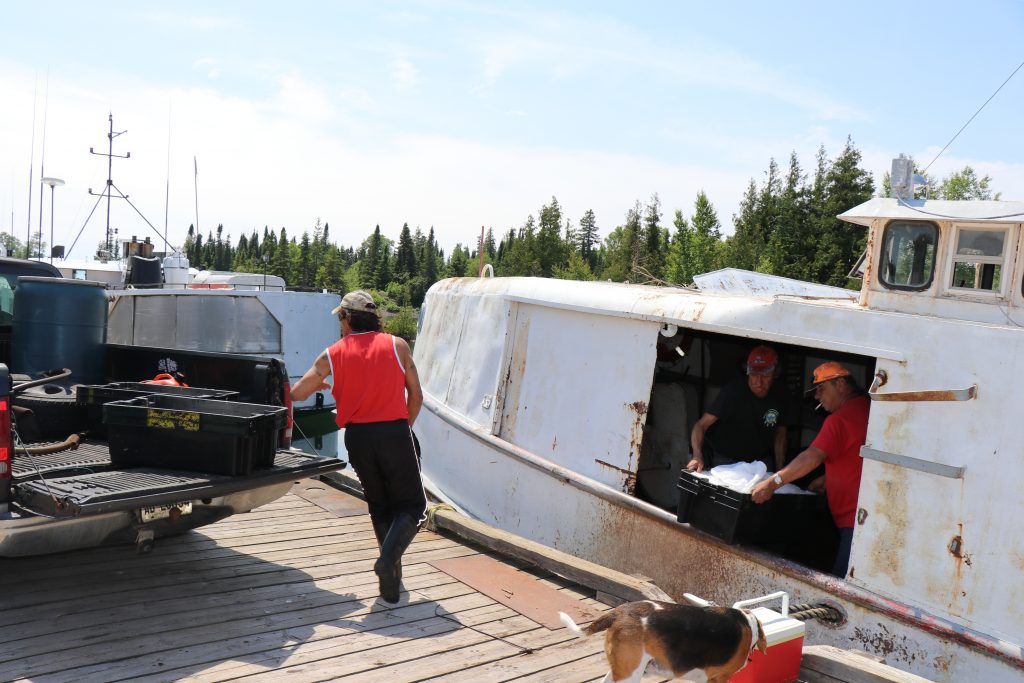 Publications
Lowitt, K., Levkoe, C., Spring, A., Turlo, C., Williams, P., Bird, S., Sayers, D., & Simba, M. (2020). Empowering small-scale, community-based fisheries through a food systems framework. Marine Policy 120. https://doi.org/10.1016/j.marpol.2020.104150
Lowitt, K., Levkoe, C., & Nelson, C. (2020). Where are the fish? Using a fish as food framework to explore the Thunder Bay Area fisheries. Northern Review 49.
Lowitt, K., Levkoe, C., Lauzon, R., Ryan, K. & Sayers, D. (2019). Indigenous self-determination and food sovereignty through fisheries governance in the Great Lakes Region. In Andrée, P., Clark, J., Levkoe, C., & Lowitt, K. (Eds.), Civil Society and Social Movements in Food System Governance. Routledge Press. 
Lowitt, K., Levkoe, C., Song, A., Hickey, G., & Nelson, C. (2019). Broadening the scope: Fisheries and place-based food systems in the Lake Superior region. In Chuenpagdee, R. & Jentoft, S. (Eds.), Transdisciplinarity for Small-Scale Fisheries Governance. Spring Nature.