A limited number of LSLLN mini-grants of up to $5,000 CAD will be available between May 2022 and May 2023. The purpose of the mini-grants initiative is to support cross-hub research projects at the watershed scale that address the goals of the LSLLN. Funds may be used to support direct research and knowledge mobilization costs (i.e., research/event related travel, student/community researcher salaries, knowledge mobilization activities). Recipients will be expected to submit an overview of the project (e.g., a short written or video report) and any media outputs (e.g. videos, podcasts, photos, news stories) with the LSLLN at the end of the mini-grant. These items will be shared on the LSLLN website. Recipients will also be expected to present a summary of their project at a future LSLLN event.
Applications should be submitted via Google form (see button above) and will consist of:
Full name(s), contact information (email and phone), affiliation, primary hub affiliation (if applicable) for each participant
A project title
A brief overview of the project (500 words max)
A description of how the project addresses the goals of the LSLLN (250 words max)
A description of how the project supports cross-hub and/or watershed-scale projects, research, teaching, and/or action (250 words max)
A description of how the project engages with at least one of these core characteristics of Living Labs work: 1) collaboration; 2) relationship-building; 3) learning-by-doing; and/or 4) place (250 words max)
An indication of the expected project outputs
A detailed budget including justifications for all costs
There are two deadlines for applications: June 30, 2022, and December 31, 2022. Budgets can include costs between May 2022 and April 2023.
Applications will be reviewed by the LSLLN Steering Committee.  Inquiries should be sent to superiorlivinglabs@gmail.com.
LSLLN Climate Action Field School (2021)
Workshop: Scoping Reviews & Living Labs (2019)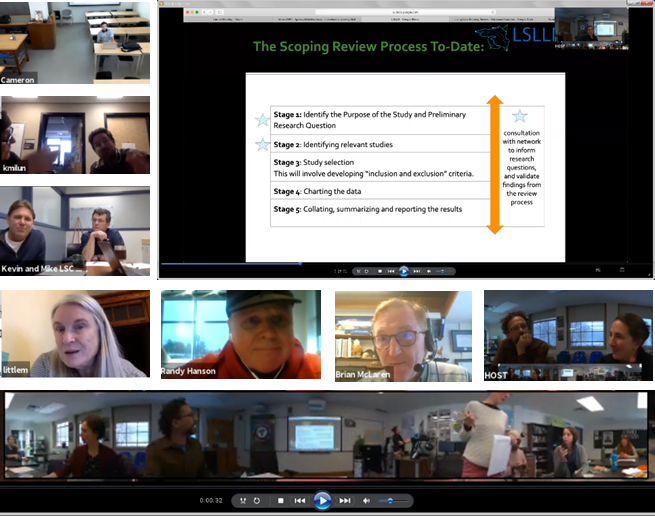 On November 21st, 2019 the Thunder Bay hub of the Lake Superior Living Labs Network hosted a workshop for LSLLN members to share about:
(1) the purpose and process of conducting scoping reviews,
(2) our intentions for conducting a scoping review of the literature written about living labs, and
(3) consult with network members about the directions of this research and the research questions to examine.