The Exploring Food and Fishery Systems in the Lake Superior Region works with First Nations, non-profit organizations and small business to better understand and map the connections between fisheries and local food systems. Using a participatory action research methodology, it uses food systems as a lens to broaden the scope of sustainable fisheries by integrating a range of interdependent dimensions (including geographical, political, economic, policy, food security and nutrition, sustainability) that interact around sustainable fisheries. The findings will bring attention to the larger sets of actors and voices that are essential to the future of sustainable fisheries, including those of Indigenous peoples, civil society, and social movements, and most marginalized within existing approaches. The LSLLN will help to expand the research and action across the Lake Superior Watershed. This project is supported by the LSLLN and a SSHRC Insight Development Grant. This project is led by Kristen Lowitt and Charles Levkoe. For inquiries or to get involved please contact Kristen Lowitt at kristen.lowitt@queensu.ca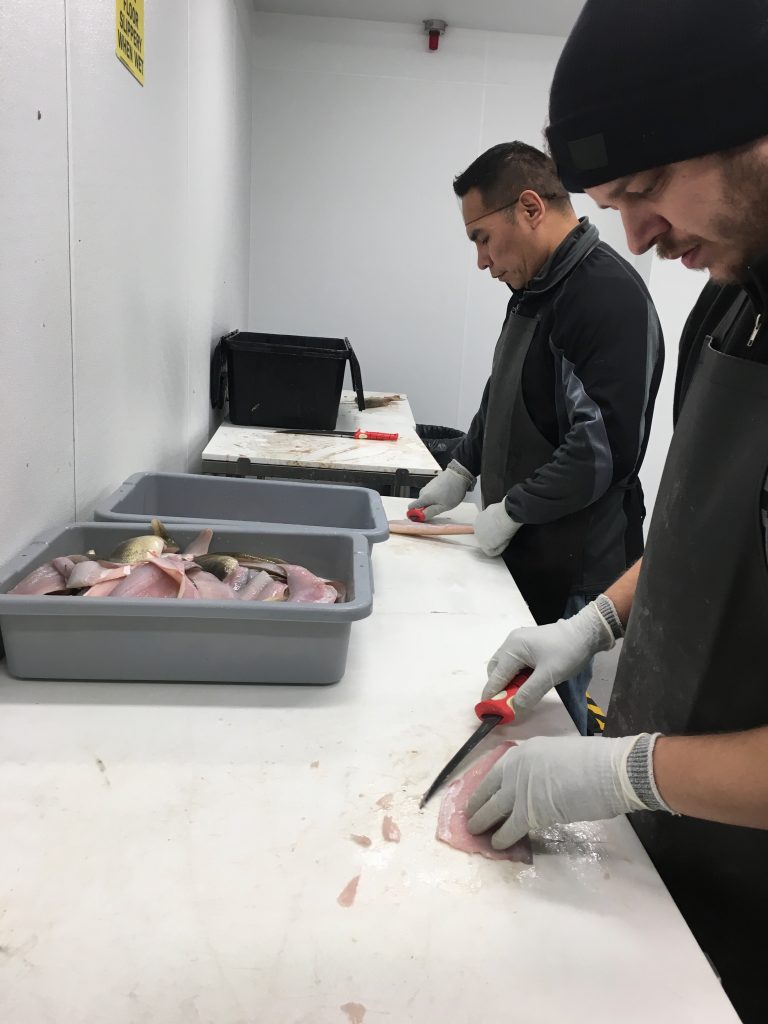 Food Sovereignty and Fisheries Governance in Batchewana First Nation
This research is exploring traditional fisheries governance in Batchewana First Nation (BFN) of the Ojibways in support of food sovereignty and reconciliation. Working in partnership with the community, this project is documenting fisheries knowledge and governance systems to support BFN's ongoing management of lands and waters in their territory. Ultimately, the project aims to contribute to the relationship building among Batchewana First Nation, the province of Ontario, and the wider public that is vital for reconciliation and developing equitable governance relationships on Lake Superior.
A main output of the project will be a video documentary, produced in collaboration with BFN and working with Sarah Furlotte of 48th Parallel Productions. This documentary will be an important communication tool that the community can use to continue sharing their story and raising awareness about fisheries, self-determination, and food sovereignty in their territory. This project is supported by the LSLLN and a SSHRC Partnership Engage Grant.
Publications
Lowitt, K., Levkoe, C., Spring, A., Turlo, C., Williams, P., Bird, S., Sayers, D., & Simba, M. (2020). Empowering small-scale, community-based fisheries through a food systems framework. Marine Policy 120. https://doi.org/10.1016/j.marpol.2020.104150
Lowitt, K., Levkoe, C., & Nelson, C. (2020). Where are the fish? Using a fish as food framework to explore the Thunder Bay Area fisheries. Northern Review 49. https://doi.org/10.22584/nr49.2019.008
Lowitt, K., Levkoe, C., Lauzon, R., Ryan, K. & Sayers, D. (2019). Indigenous self-determination and food sovereignty through fisheries governance in the Great Lakes Region. In Andrée, P., Clark, J., Levkoe, C., & Lowitt, K. (Eds.), Civil Society and Social Movements in Food System Governance. Routledge Press. Available here.
Lowitt, K., Levkoe, C., Song, A., Hickey, G., & Nelson, C. (2019). Broadening the scope: Fisheries and place-based food systems in the Lake Superior region. In Chuenpagdee, R. & Jentoft, S. (Eds.), Transdisciplinarity for Small-Scale Fisheries Governance. Spring Nature.
Levkoe, C. Z., Lowitt, K., & Nelson, C. (2017). "Fish as food": Exploring a food sovereignty approach to small-scale fisheries. Marine Policy, 85, 65-70.